Team Kickback: How we're keeping up the adventures this winter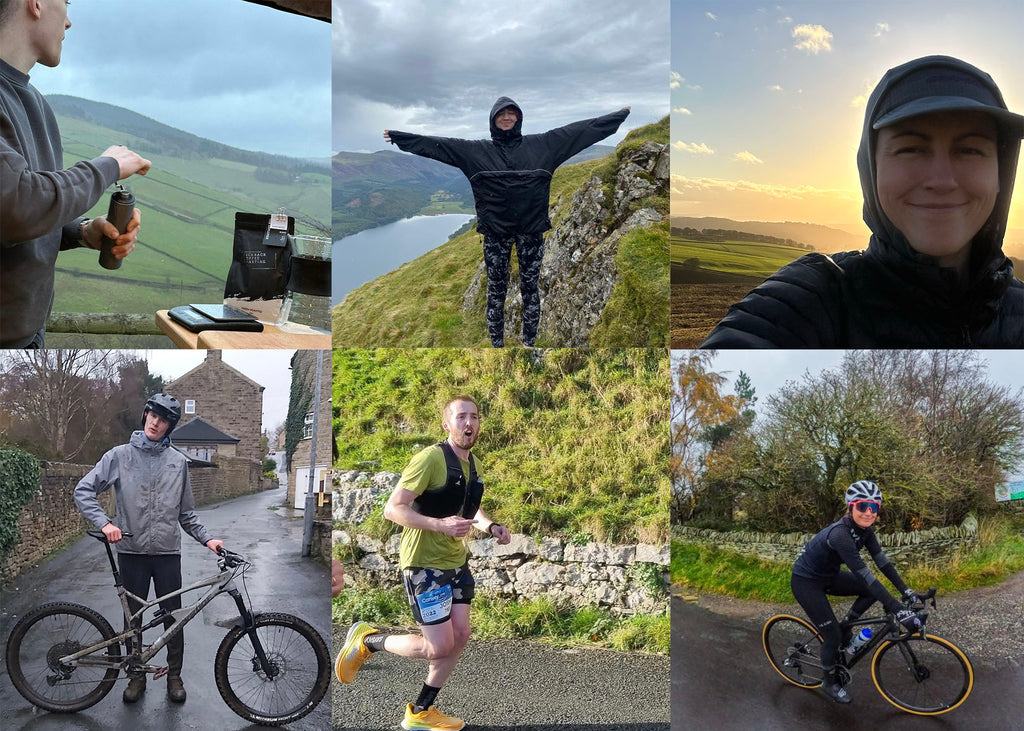 Everyone's adventures and time spent outside will always look and feel different. At this time of year winter is in full swing and the opportunity to soak up some vitamin D is pretty limited - it's easy for outside time to slip down the priority list. With solstice a couple of weeks away, I've taken this opportunity to ask the team some questions about how they keep themselves happy, motivated and inspired to get outside when the elements are sometimes against them. 
Molly
What keeps you motivated and enjoying the outdoors?
Planning weekend trips - I find it super hard to get outdoors on weekdays as the evenings draw in. Planning weekend trips gives me something to look forward to and keeps me motivated for the walks I do when weather and light aren't on my side. I regularly go up to the Lake District for weekends of walking and saying hello to the fluffy friends we pass, not forgetting the various stops for coffee, cake and cider to finish.
Kian 
Solo or buddy adventure? And why?
Depends on what in doing. When I'm walking I enjoy being with others and sharing the experience. If I'm on my bike, I'd go solo. It gives me a deep connection with nature and a chance to clear my mind. Going solo allows me my own pace and see where the bikes take me.
Josh
Where would I find you running?
Llandegla - a loop in North Wales. A beautiful, peaceful alpine loop that never disappoints, plus it has a great stop for cake at the end. Sadly the coffee isn't great, but I happily take my own. I'm really enjoying brewing our Costa Rica Aquarius, a balanced, chocolatey coffee perfect for after a run.
Alex
How are you spending time outside?
It looking a little different for me at the moment, I'm walking on average for 7 minutes! We have a new puppy, Otto, who after 7 minutes he looks at you as if to say, 'pick me up now please!'. It's not going to be long before he's the one taking me on walks, runs and rides!
Joshua 
What do you find hardest about this time of year and how do you overcome this?
Light! It is hard to manage daylight hours at this time of year. I find myself being creative with what I can do and having my van is a gamechanger for making the most out of the time I do get. When the weather is not on my side, I retreat to the van for a brew. I'm really enjoying our Explorer Blend as a filter coffee. It's bold and sweet, perfect for a van brew! 
Lauren 
How are you making the most of daylight hours?

Walks before work. I find it so much harder waking up with it being dark outside - I am not a morning person, so it takes a lot to put my alarm on a little bit earlier to give myself time to get outside. I always get to the roastery at least 10 minutes early and walk up the hill to see the mist hanging over the valley and say good morning to the sheep. Some days I have longer than others, but even a ten-minute wander does me the world of good!

Ted
Where's your favourite place to mountain bike at this time of year?
Macclesfield Forrest - MUD!! It's always a fun ride and keeps me challenged.
Kerry 
How are you spending your time outside?

I have the dogs to keep me outside, they have bundles of energy so keeps me out and about no matter what the weather is doing. Crisp, dry days are something I really look forward to about this time of year. 
Monica 
How are you keeping on your bike?

In lots of layers! I make sure not to leave super early and keep warm drinks in my bottles. It gives me the little pick-me-up I need early on in the ride. When I'm out and in the swing of things, I love the feeling riding in winter brings. Especially when I arrive home to my dressing gown waiting for me by the door!