Where to Ride Gravel Bikes: Our journey so far and Kickbacks future plans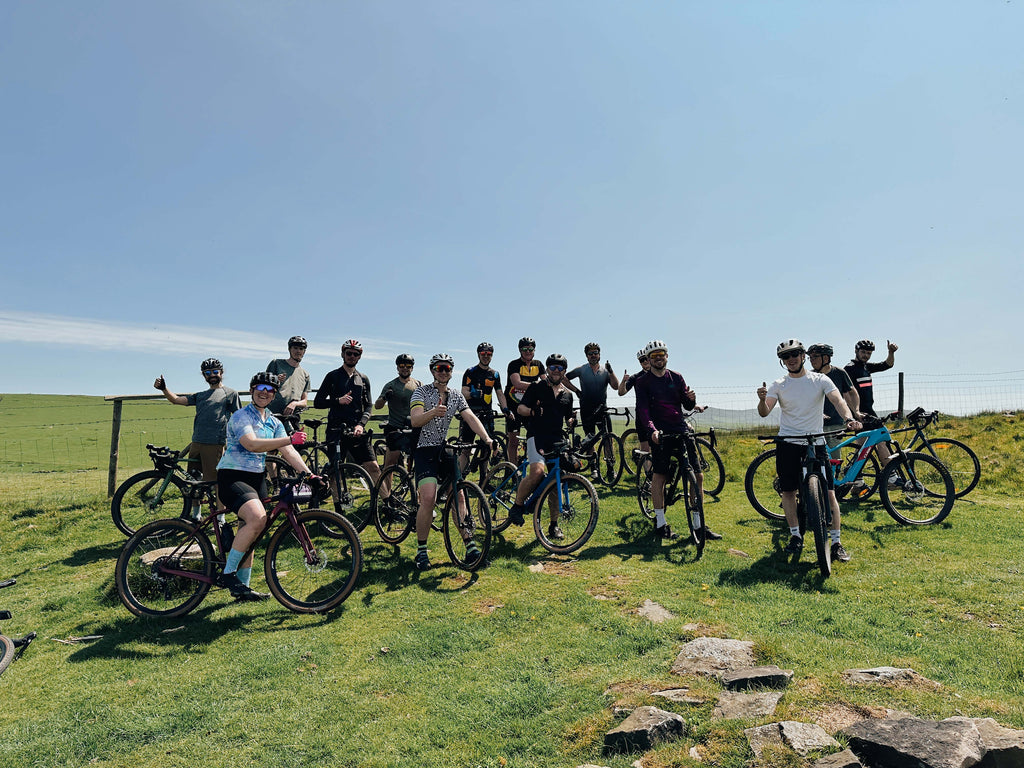 Earlier this year we launched our Kickback gravel rides, led by our very own Monica. It has been a great opportunity for the KB team to share the awesome trails around the Roastery with the KB community, but also to learn and reflect about how we want to run our events in the future.
We've tried to make our rides open to all, with people riding on everything from touring bikes to hardtails, and all gravel bikes in between. We've been overwhelmed by how many people have joined us, some people traveling from far afield to embrace the challenge of the excellent gravel around the Brickworks climb.
We loved teaming up with different partners who share a similar ethos to Kickback for some of our rides. For our latest collab, we joined Rapha for their 'Explore ride' which started and finished from our bakery in Macclesfield, Flour Water Salt. The route was 50km of tough gravel and climbs that were not for the faint of heart, with a mix of single track and winding bridleways through Macclesfield Forest. We knew from the start that this adventure wouldn't be a walk in the park, but that's exactly what makes a day in the saddle so exciting. Starting the ride with a coffee to warm up before heading out on the trails we channeled our inner 'tough northern grit'.
So what have we learned from our rides so far? Our ride leader Monica said
"It's been a challenge planning the routes but one thing we have learnt is that sometimes the shortest and simplest of routes can quickly become some of the best rides you will do. Being able to explore so close to home and still incorporate some of the best views the Peak District has to offer has been eye opening and something we have loved discovering."
Another thing we found is that some of our local bridleways lean towards being more suitable for mountain biking, and leading sections of single track with a group can be tough going. With rocky climbs and ever changing terrain, we've scouted all the routes to plan days out that all gravel riders would be able to enjoy.
We are so grateful to the riders that have shared the trails with us as we learn and grow how to make the rides accessible for everyone. With 2024 fast approaching, we are working on building on these solid foundations. We want to ensure we are doing as much as we can to make sure that there are no barriers to joining a Kickback gravel ride. This means ensuring we offer truly 'no drop' rides and create a culture which is social and welcoming, with no ego. We also want to continue to challenge those who want to experience the technical gravel the Peak District has to offer.
With this in mind, we are planning our future gravel routes to have a rating system. This will clearly highlight the level of riding we will experience throughout the route and offer a green, amber and red traffic light system so you can prepare yourself for the challenge.  
So whether you're new to riding in a group or a seasoned rider wanting to explore the gravel routes in the Peak District, please follow @kickbackcoffee on social media to stay up to date with our latest adventures or in the mean time, check out our Komoot page for our past routes. 
See you out there!